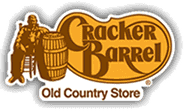 Job Information
Cracker Barrel

Retail District Manager: LA - Baton Rouge

in

Baton Rouge

,

Louisiana
Overview
Why should the next step in your retail career be with a restaurant company? We wouldn't be Cracker Barrel without our retail side! Half Restaurant + Half Store = Cracker Barrel!
It starts with individuals who pride themselves on their strong leadership talents, demonstrate innovative ideas, and have an unparalleled passion for their work. The Retail District Manager works closely with the General Manager and Retail Managers of their stores to create a "Pleasing People" environment where everyone can contribute to the overall success of the unit.
Responsibility
Delivering an exceptional guest experience starts and ends with the Retail team. They are the first ones to greet the guest as they walk in the door and then they send them off with a smile (and hopefully a fun product or two!).
Qualifications
District Managers receive a generous compensation plan including Medical/Dental/Prescription Drug Plan, Life Insurance programs, 401(k) Savings Plan, Paid Vacation, Relocation Assistance, Performance-based Bonus Plans, Management Development Programs, Employee Discounts, and More!
If you have 2 years of recent retail district management experience and are interested in taking the Cracker Barrel challenge, please apply today.
Employment opportunities at Cracker Barrel Old Country Store, Inc. are open to all qualified applicants solely on the basis of their job-related experience, knowledge, skills, and abilities. Qualified applicants are considered for all open positions for which they apply and for advancement without regard to race, color, religion, sex, sexual orientation, natinal origin, age, marital status, or the presence of a medical condition or disability.
Take the Next Step
In compliance with federal and state equal employment opportunity laws, qualified applicants are considered for all positions without regard to race, color, religion, sex, sexual orientation, genetic information, national origin, age, marital status, medical condition, disability or any other class expressly protected by law. Qualified applicants are considered for employment according to the laws of the respective state of employment. If you feel this policy has been violated, you may report such instances to the Employee Relations Department online () or toll free at 1 800-333-9566.
Location 10250 Plaza Americana Drive
Category Hidden (132329)
Address I-12 & Airline Hwy
City/State US-LA-Baton Rouge
Location : Postal Code 70816