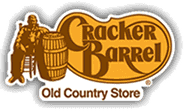 Job Information
Cracker Barrel

Associate Marketing Manager - Local Marketing

in

Lebanon

,

Tennessee
Overview
Cracker Barrel is seeking an Associate Marketing Manager that will develop strategies, plan programming and manages execution of system-wide and store specific marketing for the local level that will drive brand awareness, guest affinity and traffic/sales. Responsibilities include, but are not limited to, regional and store-specific promotions; guest segmentation marketing; new store openings; and outdoor advertising program support. This person will also work with internal cross-functional teams and leads external agencies to manage and complete work. As the Associate Marketing Manager you will also plan and oversees project budget as well as track and maintain reports, calendars and timelines.
Responsibility
Local store marketing program management:
Manages sponsorship request from store management, guests and venders

For approved programs, builds the strategic plan and executes the localized plan to support the key marketing initiatives

Leads on-site support at events

Manages the gold card, kid card and rocker system-wide program

Builds and participates in teams with cross-functional members to execute and leverage area expertise
New store marketing lead:
Builds market research plan and leads market visits for new markets to provide insight into customized plans and build relationships with local influencers (local politic dignitaries, chamber of commerce leaders, etc.) and the opening team (RVPs, DMs, Home Office NUO Cross-functional Team)

Executes and tracks calendar of pre-promotional activity, social media engagement activities and trial-driving post-opening activities and events to ensure execution that builds excitement and business in new markets

Coordinates multiple details involved in executing grand opening events

Develops media strategy and long-term billboard plan working with external agencies to execute on strategy, within budget to deliver results

Defines and track to the annual budget
Billboard advertising program support:
Manages day-to-day activity with 1600+ billboard program including renewals, upgrades, artwork approvals, maintenance, etc.

Supports creative message changes from strategy, research, creative develop to execution and field communication
Regional and store-specific project manager:
Gathers information and writes project initiation forms/marketing briefs

Reviews creative to ensure requirements have been met and routes to cross-functional teams for approvals

Clearly communicates changes to agency and ensures they meet timelines

Manages project budgets
Budget management:
Plans fiscal budget based on strategy plan

Reviews ongoing to ensure timing is appropriate and adjusts as strategy changes throughout fiscal year
Qualifications
Bachelor's degree in business or marketing-related field and minimum 5 years of experience working as an assistant marketing manager or marketing associate for a brand or similar role within a creative agency. Restaurant marketing experience is a plus.
This person must have strong experience in brand marketing. Must be self-starter, detailed-oriented and able to work in a fast paced environment. He/she must have a strong analytical background understanding how to determine a ROI and manage a budget. He/she must have excellent verbal and written communications and work well as part of a team. Multi-tasking is essential, this person will work on a variety of projects simultaneously that may or may not be related.
Strong experience developing and executing marketing strategies

Highly organized

Solid analytical skills and ability to conduct market analysis based on data

Excellent written and verbal communication

Experience working with a marketing agency

Proven ability to meet deadlines

Experience planning and managing a budget

Strong proficiency in Microsoft Office
Take the Next Step
In compliance with federal and state equal employment opportunity laws, qualified applicants are considered for all positions without regard to race, color, religion, sex, sexual orientation, genetic information, national origin, age, marital status, medical condition, disability or any other class expressly protected by law. Qualified applicants are considered for employment according to the laws of the respective state of employment. If you feel this policy has been violated, you may report such instances to the Employee Relations Department online () or toll free at 1 800-333-9566.
Location 307 Hartmann Drive
Category Home Office
Address Home Office
City/State US-TN-Lebanon
Location : Postal Code 37087