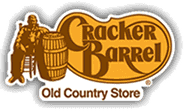 Job Information
Cracker Barrel

Director, Field Human Resources

in

Lebanon

,

Tennessee
Overview
The Home Office is seeking a Director, Field Human Resources to join our team in Lebanon, TN. The successful candidate will be a District Manager or HR professional who has a proven track record of high performance, particularly in the area of understanding and enhancing the employee experience. The qualities we are seeking include: critical thinking, intellectual curiosity, strong work ethic, high integrity, ability to influence others positively, ability to embrace and lead change effectively, and executive disposition consistent with our company's values. The successful candidate will be someone who is highly respected by her/his peers as well as store managers and employees, and is viewed as a positive, solutions and people-focused leader. S/he will have examples of successful initiatives s/he has implemented, explaining how s/he identified the problem, arrived at a solution, implemented the necessary improvements, and tracked sustainment of results. This position will report to the Vice President, Human Resources.
Responsibility
This individual will be responsible for leading, developing and coaching the Field Human Resources team in executing on delivery of HR services focused on store environment, employee & management development, and supporting business initiatives. This job requires a close strategic partnership with the Home Office Organizational Development, Talent Acquisition and Operations teams, including DVPs, RVPs and DMs.
Qualifications
Our ideal candidate is a field leader at the District Manager level or an established HR professional with deep experience in field-based HR leadership. In order to be considered for the position, candidates must meet the following minimum qualifications:
• 4-year degree strongly preferred, degree in Human Resources, Business, or Hospitality Management a plus
• Meets or exceeds expectation score on most recent evaluation
• Positive recommendation from RVP
• At least 5 years of Operations experience, at least 2 of which should be with Cracker Barrel OR 5 years of leading a disbursed Field HR department
• Must be willing to travel 30-40% of the time
• Embodies our mission of "Pleasing People"
Take the Next Step
In compliance with federal and state equal employment opportunity laws, qualified applicants are considered for all positions without regard to race, color, religion, sex, sexual orientation, genetic information, national origin, age, marital status, medical condition, disability or any other class expressly protected by law. Qualified applicants are considered for employment according to the laws of the respective state of employment. If you feel this policy has been violated, you may report such instances to the Employee Relations Department online () or toll free at 1 800-333-9566.
Location 307 Hartmann Drive
Category Home Office
Address Home Office
City/State US-TN-Lebanon
Location : Postal Code 37087