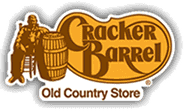 Job Information
Cracker Barrel

Dishwasher

in

Pigeon Forge

,

Tennessee
Overview
You will get the chance to gain experience and learn the behind-the-scenes tasks that make a restaurant hum! Your overall mission is to make sure our guests have clean and sanitized plates, silverware, glassware and tables to enjoy the delicious home style food we serve. Hot delicious food on gleaming plates and shiny silverware tells our guests: "Welcome to Cracker Barrel, welcome home!"
Responsibilities
At Cracker Barrel everything stops without clean, sanitized plates and silverware. You will work closely with both the kitchen and dining room teams. Working with our servers, you will make sure the next guests are seated quickly by clearing the tables and getting dishes to the dish room. You will operate dishwashing equipment and make sure a steady supply of clean and sanitized dishware is ready and available for the cooks and servers.
Qualifications
Due to the heat and equipment utilized in this role you must be 18 years or older. We will train you on how to operate the machinery but prior experience in this role is always helpful. To thrive in this role you will need to be able to lift up to 25-40 pounds, work as part of a team, and work at a consistent pace to keep up with the needs of our guests.
Take the Next Step
In compliance with federal and state equal employment opportunity laws, qualified applicants are considered for all positions without regard to race, color, religion, sex, sexual orientation, genetic information, national origin, age, marital status, medical condition, disability or any other class expressly protected by law. Qualified applicants are considered for employment according to the laws of the respective state of employment. If you feel this policy has been violated, you may report such instances to the Employee Relations Department online () or toll free at 1 800-333-9566.
Location 2285 Parkway
Category Kitchen
Address US 441 at Sugar Hollow
City/State US-TN-Pigeon Forge
Location : Postal Code 37863