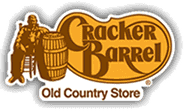 Job Information
Cracker Barrel

Night Maintenance

in

Pigeon Forge

,

Tennessee
Overview
Your day begins after our guests have all left happy from dining and shopping! Your work will set the stage for our next day of providing a great guest experience. Working the overnight shift, you will complete routine cleaning and maintenance tasks, and document any larger capital maintenance needs, along with securing the facility between the closing and opening shifts. Your overall mission is to provide a comfortable, safe, and clean home-away-from-home environment for your team and guests so we can proudly say: "Welcome to Cracker Barrel, welcome home!"
Responsibilities
Working with your store manager and the regional facility manager, you will complete a list of daily, weekly, and monthly cleaning and routine maintenance tasks. These could include high dusting, replacing light bulbs, and deep cleaning activities. Your goal is to make sure that the store stays looking like new – shined up and ready for guests to walk through our doors the following day.
Qualifications
To be successful in this role you must to be able to work independently with limited supervision and have a strong knowledge of basic maintenance tools and cleaning equipment. Due to the responsibilities of the job you must be over 18 years old, and able to lift up to 40 pounds. You will need to be punctual with a strong attendance record, and a mindset to protect and preserve company assets. Our doors can't open the next day without the work you do!
Take the Next Step
In compliance with federal and state equal employment opportunity laws, qualified applicants are considered for all positions without regard to race, color, religion, sex, sexual orientation, genetic information, national origin, age, marital status, medical condition, disability or any other class expressly protected by law. Qualified applicants are considered for employment according to the laws of the respective state of employment. If you feel this policy has been violated, you may report such instances to the Employee Relations Department online () or toll free at 1 800-333-9566.
Location 3960 Parkway
Category Maintenance
Address Hwy 441
City/State US-TN-Pigeon Forge
Location : Postal Code 37863