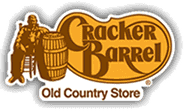 Job Information
Cracker Barrel

Fast Track General Manager - Atlanta, GA

in

Suwanee

,

Georgia
Overview
Ensures long term business success. Maintains optimal execution of daily operations. Responsible for leadership over management team and staff. Provides and promotes elevated customer service.
Responsibility
Ensures Long Term Business Success
Responsible for the business performance of the restaurant. Plans and executes methods of increasing sales, achieving targeted costs, and maximizing profit. Supports the long term vision of the company. Develops plans for continuous improvement.
Maintains Optimal Execution of Daily Operations
Ensures proper implementation of all operational policies and procedures. Guarantees consistency of delivering fresh, high quality food that has been prepared in a proper manner. Ensures high standards of quality control, sanitation, health, and safety as established by industry standards and laws. Arranges to have equipment repaired or maintained. Accurately estimates quantity and ensures preparation of food and beverage necessary to meet daily demands while minimizing waste. Coordinates with management team to ensure optimal operation of the restaurant during scheduled shifts. Schedules staff work hours and ensures that peak dining hours are optimally covered. Maintains appropriate records and reporting as required by Corporate Office.
Management Team and Staff Leadership
Establishes work functions for management team and provides guidance and feedback regarding daily execution of responsibilities. Maintains a diverse and motivated team that will achieve and maintain high standards of operation and exceptional guest experiences. Retains top talent and promotes a positive team environment by developing team members through ongoing training, modeling, and providing outstanding leadership. Responsible for every aspect of the hiring process for all employees. Completes and maintains performance reviews and other required personnel records.
Provides and Promotes Elevated Customer Service
Achieves and maintains a high level of customer service and ensures customer issues are quickly and efficiently resolved. Dedicated to providing the best possible experiences for our guests. Takes responsibility for upholding Cracker Barrel Old Country Store customer satisfaction reputation.
Qualifications
Candidate to transfer GM position to GM position:
Must be in previous position for at least 1yr.

Must be an Overall "3" Meets Standards or better on last evaluation

Must not currently be on a PIP/final written warning

Must be an employee in good standing (Not currently under investigation)
Candidate to promote from SAM to GM:
Must have an overall "3" Meets Standards or better on last evaluation

Must not currently be on a PIP/final written warning

Must be an employee in good standing (Not currently under investigation)

Must apply for all locations interviewed for (i.e. all locations covered in a panel interview)
Take the Next Step
In compliance with federal and state equal employment opportunity laws, qualified applicants are considered for all positions without regard to race, color, religion, sex, sexual orientation, genetic information, national origin, age, marital status, medical condition, disability or any other class expressly protected by law. Qualified applicants are considered for employment according to the laws of the respective state of employment. If you feel this policy has been violated, you may report such instances to the Employee Relations Department online () or toll free at 1 800-333-9566.
Location Celebration Drive
Category Restaurant Manager
Address I-85 & Lawrenceville/Suwanee
City/State US-GA-Suwanee
Location : Postal Code 30024